Sumer in Costa Rica begins in Janurary. As the sun moves over 9.7° N lattitude, summer reaches its peak in March. Daytime tempeatures push into 80 degrees, and at night it's a comfortable 66 degrees.
Of course the summer in Costa Rica is perfect for outdoor activities. If you are coming to San Jose, then arrange for a day tour. Enjoy some of the natural beauty of the country. You will be back to your hotel in time to enjoy the nightlife.
Options for day tours are plentiful. Just email your hotel when you are planning your trip.
Irazu Volcano & Thermals Hacienda Orosi
Surrounded by rainforest and lush vegetation, La Hacienda Orosi has been blessed by mother earth with nascent hypothermal mineral water. These rich springs of mineral hypothermal "telluric" waters (non-magmatic or volcanic ), are filtered between the layers of the earth and spring in the middle of the rainforest at more than 65 degrees Celsius.
Arenal Volcano with Tabacon Hot Springs
This tour shows the best of both worlds, in terms of the raw untamed beauty of the imposing Arenal Volcano, which is juxtaposed against the lush and soothing thermal waters of Tabacon Hot Springs. All this, set against a backdrop of lush vegetation and breathtaking views of the nearly perfect conical shaped lines of the volcano.
ATV Combo Adventure Tour
At Vista Los Sueños Adventure Park you choose from two amazing adventures. Enjoy one of the best Zip Line Tours in Costa Rica, or discover the Horseback Riding tour and visit pristine waterfalls or our Action packed ATV jungle adventure in the rainforest, crossing rivers, muddy paths and ocean view lookout spots, also ending at our pristine waterfalls.
Poás Volcano National Park / Doka Coffee Tour / La Paz Waterfall Garden
Visit Doka Coffee Estate for a delicious breakfast and tour in an actual coffee plantation. Continue to Poas Volcano National Park, where there is a noticeable change in temperature and exuberant vegetation of the cloud forest. The Poás Volcano, is an active 2,708-metre (8,885 ft) stratovolcano. After Poás, continue to La Paz Waterfall Garden, and enjoy a buffet lunch with multiple selections of Traditional Costa Rican dishes.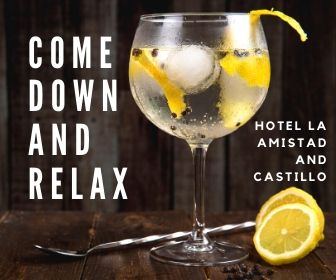 Toll-Free Reservations from US: 877 260 3027
In Costa Rica: (+506) 2258 0021
Email: info@hotelamistad.com
Hotel Website:www.hotelamistad.com
Come Down and Relax at Hotel La Amistad or Hotel Castillo. Email or give us a call and we can find a day tour that works best for your travel plans.