A renovated 1920's era mansion, Hotel Amistad offers rooms with South Beach Miami flare, and in style of a bed and breakfast. All suites include queen beds with memory foam mattresses, 30" flat screen televisions, mini refrigerator, electronic safe, free local calls, 80 channels of free cable TV, HBO, Cinemax, air conditioning, and a made to order breakfast served every morning.
Reopened on October 1, 2021, La Amistad is pleased to offer CRT VIP members a 10 percent discount. All-inclusive is not currently available at La Amistad, and a new menu is being developed.
Guests who prefer an all-inclusive hotel and dining rate should book at the nearby sister property, the Castillo.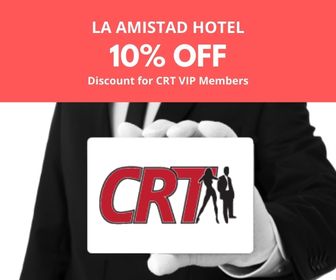 Toll-Free Reservations from US: 877-697-4639
In Costa Rica: (+506) 2258 0021
Email: info@hotelamistad.com
Hotel Website:www.hotelamistad.com